Answer this in a heartbeat:
The Fibonacci numbers are F(1)=1, F(2)=1, F(3)=2, F(4)=3, F(5)=5, F(6)=8, F(7)=13, ... where the first two are both equal to 1, and from then on, each one is the sum of the two preceding it. Of the first 2004 Fibonacci numbers, how many have 2 as their last digit?
Twelve-year-old Filipino student Farrel Eldrian Wu got it right easily—and aced the rest of the 30 questions in the Australian Mathematics Competition (AMC) held on Aug. 2 worldwide.
AMC is an annual event where students from third grade until second year college (at least in the Philippines) solve a series of math problems in 60 minutes (for third to sixth grade) or 75 minutes (for seventh grade to 12th grade or second year college in the Philippines).
The contest is divided into three levels—junior (grades three to six), intermediate (grades seven to second year high school), and senior (3rd year high school to 2nd year college), said Dr. Simon Chu in a phone interview, Mathematics Trainers Guild (MTG) president.
In the country, it is supervised by the Department of Science and Technology-Science Education Institute (DOST-SEI) in cooperation with the MTG. It is held in at least four areas all over the country—one in the National Capital Region, Luzon, Visayas, and Mindanao, said Robert Degolacion, MTG office director, in a phone interview.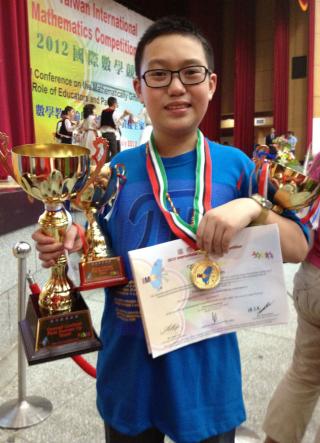 In this file photo, Farrell Wu shows the medal and trophies he won in a math contest in Taiwan held last July. Photo courtesy of MTG
Wu, a grade seven student at MGC New Life Christian Academy in Taguig City, edged out 500,000 contestants from over 30 countries worldwide in the intermediate level.
In a statement, Wu said he found the AMC questions "challenging."
"The contest paper was done creatively. The problems were written in a way that they were not the typical school problems, but instead require logical thinking and approach with solutions that are not straightforward," he added.
Another student who got perfect score was Zhi Yi Bernard Teo of Singapore. Wu and Zhi Yi won the Peter O'Halloran Certificate, the highest award in AMC.
Chua said in a statement, "Seventy-three Filipino students among the 3,617 Filipino students who joined this year's AMC won medals and awards for belonging to the perfect scorers, 99 and 99+ percentile.
This is not the first time the Philippines faired well in the competition, said Chua.
"Every year, we are winning (at AMC), we get very excellent scores. If I remember correctly, this is the third time a Filipino got a perfect score," said Chua.
AMC started in 1978. However, the Philippines joined the competition only by 1992. In year 2000, DOST-SEI expanded the program and had students all over the Philippines joined the competition.
Chua also said that the two-year handicap felt in other international math and science competitions was not felt at AMC.
Because the competition is divided into three levels, Filipino students are able to compete within their age-level, said Chua.
"Fairly enough, the problems suit our Basic Educational Curriculum and it does not require advanced formulas but only creative thinking," Wu said.
Wu also said he was not really aiming for a perfect score.
"After joining several math competitions, I have already learned not to focus on the awards. But instead joining a competition is already winning in itself," Wu said.
He added, "To be given the opportunity to participate in any competition and to have the chance to answer beautiful math problems with fellow mathletes around the world are more important to me."
This year's Filipino medalists and AMC prize awardees who belong to the top scorers and 99+ percentile are:
Farrell Eldrian Wu - MGC New Life Christian Academy

Andrew Brandon Ong - Chiang Kai Shek College

John Thomas Chuatak - St. Stephen's High School

Justin Yturzaeta - Jubilee Christian Academy
The prize awardees who belong to the 99+ percentile are:
Bryce Ainsley Sanchez - Grace Christian College

Eion Chua - MGC New Life Christian Academy

Dion Stephan Ong - Ateneo de Manila Grade School

Matthew Eric Tan - St. Stephen's High School

Patrick Nino Policarpio - Greenpark Montessori Learning Center

Christian Philip Gelera - UP Integrated School

Shaquille Wyan Que - Grace Christian College

Deany Hendrick Cheng - Grace Christian College
The high distinction certificate awardees who belong to the 99 percentile are:
Immanuel Josiah Balete - St. Stephen's High School

Sted Micah Cheng - Hope Christian High School

Hiraya Marcos - Philippine Cultural College-Main

Kaizen Naquita - SPED Integrated School de Iloilo

Rene-John Ongchua - Solomon Integrated School de Iloilo

Trisha Danielle Sia - Chiang Kai Shek College

Dan Alden Baterisna - Colegio San Agustin Makati

Adolph Monji Chen - Xavier School

Drew Skyler Co - Jubilee Christian Academy

Maxinee Louise Co - Ateneo de Iloilo-SMCS

Miguel Bradford Lao - Philippine Cultural College-Main

Jacob Peralta - PAREF Southridge School

Steven Reyes - St. Jude Catholic School

Trisha Denise Siy - MGC New Life Christian Academy

Philmon Wee - Xavier School

Juan Pablo Abola - PAREF Southridge School

Alodia Carey Baisas - Colegio San Agustin-Binan

Szel Leeven Embay - La Salle Academy

John Henry Marquez - UP Integrated School

Raymund Carlo Masbano - St. John's Institute

Zeidrich Monares - UP Integrated School

Stefan Marcus Ong - St. Jude Catholic School

Lance Christian Ting - St. Stephen's High School

Bon Leif Amalla - Colegio San Agustin-Binan

Luke Matthews Bernardo - Philadelphia High School

Vicente Raphael Chan - Zamboanga Chong Hua High School

Jinger Chong - St. Jude Catholic School

Jan Joshua Cruz - Pasig Catholic School

Shamira Liao - St. Stephen's High School

Jose Ignacio Locsin - St. John's Institute

Eason Wong - Philippine Cultural College-Caloocan

Clyde Wesley Ang - Chiang Kai Shek College

Kyle Patrick Dulay - Philippine Science High School-Main

Xavier Jefferson Go - Zamboanga Chong Hua High School

Grant Aaron King - Grace Christian College

Angelika Joie Tagupa - Colegio San Agustin-Binan

Raphael Villaluz - Philippine Science High School-Main;

Raymond Joseph Fadri - Makati Science High School

Kelsey Lim Tiong Soon - Grace Christian College

Albert Jason Olaya - Philippine Science High School-Main

Ezekiel Christian Ong - UNO High School

Gerald Pascua - Philippine Science High School-Main

Vince Benedict Say - St. Jude Catholic School

Adrian Reginald Sy - St. Jude Catholic School

James Vincent Tan - Bayanihan Institute

Jonn Angel Aranas - Makati Science High School

Nathanael Joshua Balete - St. Stephen's High School

Austin Edrich Chua - St. Jude Catholic School

Francis Concepcion - Philippine Cultural College-Main

Ma. Czarina Angela Lao - St. Jude Catholic School

Reine Reynoso - Philippine Science High School-Main

Matthew-Ryan Tan - St. Jude Catholic School

Kaye Janelle Yao - Grace Christian College

Karli Ang - Philippine Institute of Quezon City

Jervis Chua - Philippine Cultural College Main

Aaron Jevon Dy - Xavier School

Martin Lewis Koa - St. Jude Catholic School

Himig Marcos - Philippine Cultural College Main

Ron Gabriel Navarro - Philippine Science High School

Lorenzo Gabriel Quiogue - Ateneo de Manila High School

Jason Allan Tan - Jubilee Christian Academy