Chicago Bulls fans are searching for hope.
After such a devastating ending to last season, and lingering concerns regarding how well Derrick Rose will recover from his torn ACL, fans are desperate for potential happenings to lift their spirits. The offseason signings of players like Nate Robinson and Kirk Hinrich simply will not satiate the hearts of the Bulls faithful.
Dwight Howard to the Bulls trade speculation circulated for over a year, even though it was never a highly plausible scenario. Bulls fans enjoyed entertaining the thought while holding out hope that "Superman" just might somehow land in Chicago and latch on long-term, but that thought was clearly just a dream.
The next man in line for unending trade speculation is Kevin Love, who declared over the summer that his "patience is not high" with his current squad, the Minnesota Timberwolves.
After such a declaration, it's inevitable that rumors are going to spread about what could happen to K-Love if the T'Wolves whiff on the playoffs again in 2012-13. Would he demand a trade?
His current contract has him locked in through the 2014-15 season, with a player option for 2015-16. But it's clear Love's patience could run its course before he hits free agency.
This is where a team like the Bulls could enter the picture. Is it a dream to wonder if Love's dissatisfaction will reach a boiling point and a trade to Chicago could be a realistic potential?
Well, it may be a potential, but numerous factors will have to fall into place.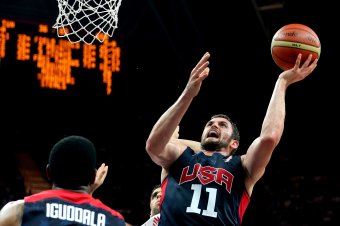 Christian Petersen/Getty Images
First of all, will the T'Wolves really miss the playoffs again this year? If they stay healthy and regain playmaking Ricky Rubio come December or January, then there's every reason to believe Minnesota can crack into the playoffs as the 7th or 8th seed.
If this happens and the T'Wolves begin to show major signs of life, perhaps Love will squelch any hint of a lack of patience.
Secondly, do the Bulls have the pieces to land a player of Love's caliber?
The truth is they likely do if Minnesota becomes willing to make Love available, but it would be a hefty price. We're talking Taj Gibson (assuming Chicago inks him to a long-term deal next offseason), prized prospect Nikola Mirotic and a couple draft picks (one of which would likely be a future Charlotte Bobcats first-round pick).
Pulling the trigger on such a deal is not a no-brainer. Gibson, while not an All-Star level player, has great value, particularly on defense, and Mirotic's upside is through the roof.
Therefore, trading for K-Love is obviously an idea to speculate if it's an option, but the Bulls would be wise to play their cards wisely if considering such a deal. It may not be worth trading away a very bright future for one player, despite the caliber of player Love is.
Further, perhaps the Bulls could wait until Love hits free agency in 2015 or 2016. Bulls fan may lack the patience for that, but it could be wiser for Chicago to wait rather than gamble in the next year or two.
Lastly, money, as always, is a factor. The Bulls can't readily trade for Love like you can on a video game. With the bulky contracts of Rose, Joakim Noah, Luol Deng and Carlos Boozer on the books, some tinkering would need to be done to free up the appropriate space for Love, who will make around $15 million over the next few seasons.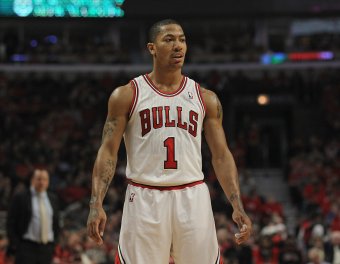 Jonathan Daniel/Getty Images
All that to say, is adding Love just a dream?
Yes, because, as we all know, most trade speculation never ends up happening. We may talk about this for three years but in the minds of Chicago and Minnesota management, this is downright silly and they are giggling at us.
And no, because if certain details fall into place, then there's reason to believe Love would be excited about playing in the Windy City. If he could join a nucleus of Rose, Noah and Deng, the Bulls would enter the mix of the league's elite.
At any rate, this is at least an idea for Bulls fans to speculate. Adding Love, even if it cost a great deal, would give Chicago a legitimate No. 2 option alongside D-Rose.
Therefore, maybe Chicago fans should passionately root against Minnesota this season, yearning for a disgruntled K-Love who soon asks for a trade to a true title contender.
If this happens, then it may not merely be a dream to think the Bulls will soon pursue Love. It may become reality.