With Christmas vacation just around the corner, Filipinos are already making plans for the much-awaited break. If your idea of a good time is dancing 'til dawn, you don't have to go too far.
Boracay's White Beach in Aklan is one of the top 10 party beaches around the world, according to travel search engine and flight comparison site Cheapflights.com.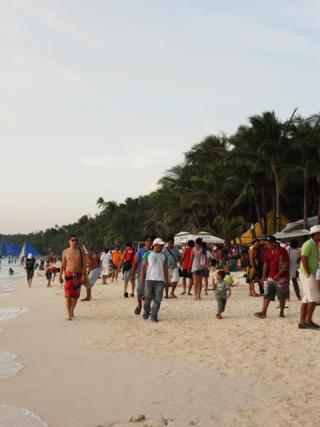 Summer or not, Boracay is a favorite vacation spot. In December, Filipinos and foreigners flock to the island's white sand beaches. GMA News
"This beach at Boracay used to be so notorious for wild behavior that its visitors were sworn to secrecy – to keep this gem a private pleasure," Cheapflights described White Beach in its list, which was published on Huffington Post on August 25.
According to the Cheapflights list, the party scene at White Beach is no longer a secret, but it's still very much alive.
"There are amazing fire dancing shows and fireworks, live bands and parties that last from dusk until dawn. There's a great variety of clubs and bars along the beach, so no matter what kind of music you're interested in, you'll find a great place to hang out where the dance floor is never empty," the guide said.
Ibiza in Spain;

South Beach in Miami, USA;

Gordon Beach in Tel Aviv, Israel;

Nissi Beach in Ayia Napa, Cyprus;

Kuta Beach in Bali, Indonesia;

Haad Rin Beach in Koh Phangan, Thailand;

Psarou Beach in Mykonos Island, Greece;

Zrce Beach in Novalja, Croatia; and

Palolem Beach in Goa, India.
Readers of travelandleisure.com voted Boracay the world's best island with a score of 93.10. The criteria included natural attractions, activities/sights, restaurants/food, people, and value.
On the other hand, unsustainable development and the large number of tourists result in severe environmental problems, including the destruction of the island's coral reefs, an earlier report said.
In February this year, environmental group Sangkalikasan told Agence France-Presse that thousands of reefbuds would be planted off the resort island, which will serve as a medium for coral to grow back.
Early this month, the Philippine Information Agency reported that authorities of Aklan will implementstricter penalties against those who are caught collecting white sand and pebbles from the island's beaches to "stop the blatant extraction of white sand in the island of Boracay which has greatly diminished its beauty and caused the slow degradation if not the destruction of the pristine island." –Carmela Lapeña/KG, GMA News