2012 has been very good for the Philippine property market, backed by a glowing economy, overseas Filipino remittances, and business process outsourcing (BPO) as main drivers to a development boom.
Despite fears of a bust, there is an overwhelming confidence among government officials and indsutry stakeholders holding on to the belief that there is no end to what is now happening in the market.
"We have previously noted that a major driver of this growth is the demand for office space due to the strong outlook of the BPO sector," Socioeconomic Planning Secretary Arsenio Balisacan told reporters in a briefing on the third quarter GDP in late November.
"Also, favorable economic conditions led more individuals to purchase residential properties," the Economic Planning chief added. He pointed out that the property market posted "strong expansion" this year, as "major players... Ayala Land, SM Prime Holdings and Megaworld posted double-digit revenues in terms of real estate and rent of commercial spaces."
All-time low interest rates could also spur a reality shift toward a country of homeowners from a nation of renters, an industry insider noted. The ripple-effect could also lead to changes in the real estate market, inclduing the rise in green buildings and the call for the development of the silver market that caters to senior citizens and retirees.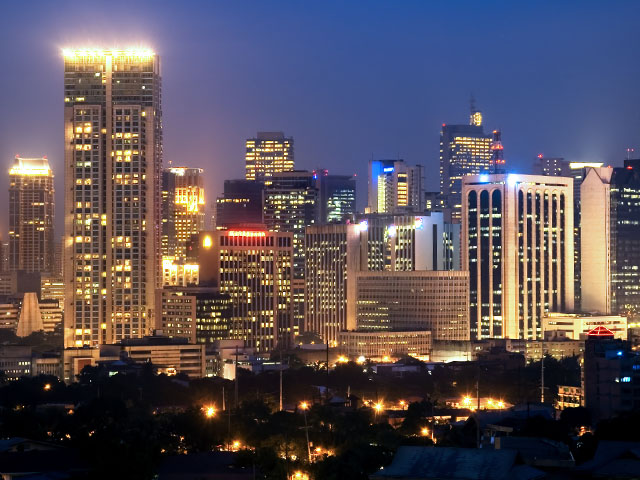 Change is happening, a "democratization" in the real estate sector "based on low interest rates and financing schemes," Rick Santos, chairman and CEO of real estate services and advisory firm CBRE Philippines told GMA News Online.
Global property manager, broker, and marketeer Colliers International noted the growing demand to property ownership will be sustained largely by "the younger age set"– a trend developers are already catering to with major player Century Properties expanding into the "affordable market" that includes its P4.1-billion The Residences at Commonwealth
Data from global real-estate services firm Jones Lang LaSalle Leechiu (JLLL), 129,920 residential units are currenly available in Metro Manila, of which 3,690 are high-end at P120,000 per sqm and the rest are mid-range at P50,000-P110,000 per sqm.
The bulk of condominium units developed in 2012 were in the P1.5 million-P3 million and P3 million-P6 million per unit range, with the lower range expected to account for 56 percent of the total by 2018.
This year, most residential condominium developments were concentrated in the Metro Manila's Pasig, Mandaluyong, Quezon City, and Makati areas, each receiving around 20 percent of total developments. Makati put up the most high-end to luxury condominium units at 6,099.
Metro Manila has a 54-percent share of existing retail supply, which is projected to drop to 52 percent next year.
The rental average of ground floor and upper levels now stand at P1,028 per sqm in Metro Manila and P700 nationwide.
Despite the general trend of rising prices, "There is no bubble in the Philippine property development market, because what is built is leased," was JLLL's fearless assessment.
The housing bubble that struck the US in the mid-2000s – the subprime mortgage mess that spurred the global economic depression – after banks began offering home loans left and right, even to high-risk borrowers with no financial backing to pay the amortization on the houses, which were then reassessed below fair market value and resold at a lower price.
Such scenario has nil chance of plaguing the country – at least until the next handful of years – said JLLL associate director for markets Philip Añonuevo, adding that "the holding power of Filipino buyers is longer."
The Philippine economy, which clocked at 7.1 percent in Q3 2012 – the fastest in Southeast Asia – helped boost confidence and investments among property suppliers and buyers and leasing companies, a trend JLLL swears would likely last until the next presidential election in 2016.
Washington DC-based Urban Land Institute (ULI), which advocates responsible use of land and creating sustainable communities, found much cause for optimism in the Philippine property sector. Its survey on emerging real estate trends in the Asia Pacific raised Manila by six notches to 12th among 22 cities in terms of investment prospects for 2013. Manila also ranked ninth in city development prospects.
In retail property buy/hold/sell recommendations, 40 percent of respondents urged a buy, 51 percent a hold, and 9 percent a sell.
Among leading Asia Pacific cities, Manila was judged "generally good," with ULI noting that markets have "performed well in the past couple of years as a result of a growing economy, a transparent and business-friendly government, and the country's ongoing success – an 'eye opener' – in attracting foreign clients in its [BPO] facilities."
The survey also cited the large casino development in Pasay City as an impetus to development and boosting tourism – once completed.
However, the bar on foreigners' "holding majority land ownership... continue to deter international investors." Ample liquidity from domestic sources is also dampening the need for locals to partner with aliens.
JLLL's Añonuevo urges the government to incentivize firms to head south or north as an option to decongest the increasingly cramped and disaster-vulnerable Metro Manila.
JLLL national director for markets Lizanne Tan noted Cebu was the leading business location after Metro Manila, with rents nearing those in the National Capital Region except for Makati, but with lower salaries.
Foreign investment opportunities
ULI's study found opportunities for foreign investors in the gaming and BPO sectors. "Both present large opportunities," ULI said, "with the latter accounting for some 70 percent of new office take-up in Manila."
JLLL also reported that BPOs were still the top buyers of office space in 2012. In the first 11 months of 2012, demand grew 18 percent to 425,000 sqm year-on-year.
Non-BPOs bought 100,000 sqm or 25 percent of current demand, said Sheila Lobien, JLLL director for project leasing.
She said average Grade A rents in Bonifacio Global City and the Makati central business district have risen 15 to 20 percent since 2009 "due to a high level of leasing activity across all districts" that include Alabang, Ortigas, Eastwood, Pioneer, and Araneta Cyberpark.
Global City is becoming the hot location, with multinational Coca-Cola and homegrown Aboitiz Group "bracing for expansion and moving to new corporate space," Añonuevo noted. The Philippine Stock Exchange would move to its headquarters there in 2016.
The massive entertainment district development in the Manila Bay Area has inspired tourism-geared development. In May, JLLL tracked 10,536 hotel rooms in the pipeline from 2011 to 2016, and 5,000 more have since been added in six months.
Añonuevo said growth areas to look out for include the privatized Food Terminal Complex and the University of the Philippines area on Commonwealth Avenue.
In November, the Retirement and Healthcare Coalition formed by the European, American, Japanese, and Korean chambers of commerce urged local property developers to look into developing for the growing "silver market."
By 2030, 25 percent of the world's population will be comprised of retirees, many of them "looking for homes outside their own countries," said Coalition executive director Marc Daubenbuechel.
Agence France-Presse reported that the Philippine Retirement Authority already counts nearly 21,000 retirees, mostly Chinese, Korean, Taiwanese and Japanese, in its retirement incentive program. But the Philippines is behind Malaysia and Thailand when it comes to aggressively pursuing second-home silver buyers. — BM/VS, GMA News