Two elusive mammal species endemic to the western Visayan islands were recently photographed for the first time by a team of British scientists accompanied by local experts.
The scientists used a special photography method in thick jungle to capture the Visayan Spotted Deer and the diminutive Visayan Warty Pig in central Negros island. They laid 20 camera traps, which shoot pictures when activated by an animal's feet.
"We didn't actually see the animals with our own eyes," Dr. Neil D'Cruze of the World Society for the Protection of Animals said on BBC Radio Four's Today program.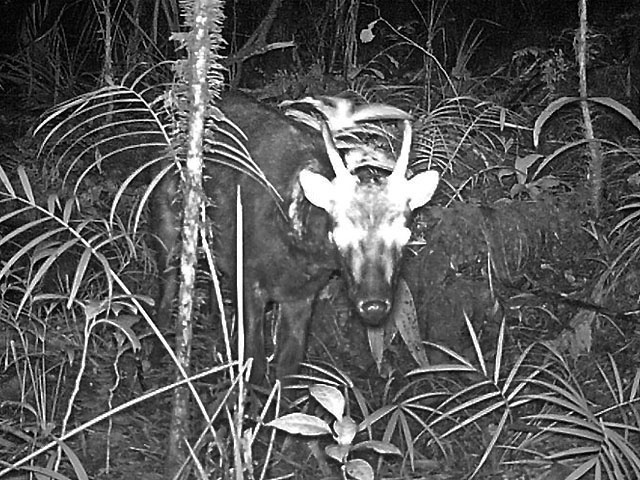 An endangered Visayan Spotted Deer activates a camera trap in the dense forest of North Negros National Park

.

N. D'Cruze/J. Sawyer

D'Cruze led the research team on the mountain forest expedition, which he described as "twelve very hard days camped in some of the worst field conditions... lashing rain, this really impenetrable forest."
D'Cruze explained that they hiked up the rugged forest into the interior of North Negros National Park, and left the camera traps there, hoping to get photos of the Visayan Warty Pig and the Visayan Spotted Deer.
"Before we even headed into the forest we interviewed local experts, mountain leaders, and ministry forest officials, etc. Despite decades of combined experience of operating in the forest and in the area, none of them had actually seen it," said D'Cruze.
"When we came back and showed them the photos, the look of excitement on their faces, it was incredible. It was a real experience," he said.
Both species are extremely rare. The Visayan Warty Pig is listed as critically endangered, while theVisayan Spotted Deer is listed as endangered by the International Union for Conservation of Nature and Natural Resources (IUCN).
"Both species are endemic to the islands of Negros and Panay... In terms of the deer, we're talking about probably about 2,500 mature individuals," D'Cruze explained.
Asked if he thinks the photos will assist in saving the animals, D'Cruze said it's important to weigh the impact of one's actions before deciding to look for endangered species.
"Before you go off looking for any kind of endangered animal, especially chordata mammal species, you really have to weigh the impact that your actions will have."
Saying the forest was like Arthur Conan Doyle's Lost World, D'Cruze described the forest area as 600 meters on a plateau.
"The only way that we've gained access was through a tree that had fallen and we walked across this fallen tree. Once it goes, who knows how access will be gained?" he said.
He added that they found evidence of hunters operating in the area, including cigarette packets on the floor.
The Philippine Spotted Deer Conservation Programme (PSDCP) was established in 1990, and the Visayan Warty Pig Conservation Programme (VWPCP) in 1992. However the IUCN notes that although Philippine law protects the species, enforcement is lacking.
"We're hoping that by highlighting that these animals are there, by getting these photos and generating interest, we're hoping that much needed funds and attention will be given to Philippine conservation," he said