With its cheap food, beautiful beaches and beer for less than a dollar, the Philippines is a great spot to settle down, according to a news aggregation website.
"Taxes are minimal, so living is very comfortable on a pension of $3,000 per month. Post 50s may have to share the beach with younger folks since the minimum age for ex-pat retirees is 35," The Huffington Post said of the Philippines in its feature on 10 great places to retire overseas.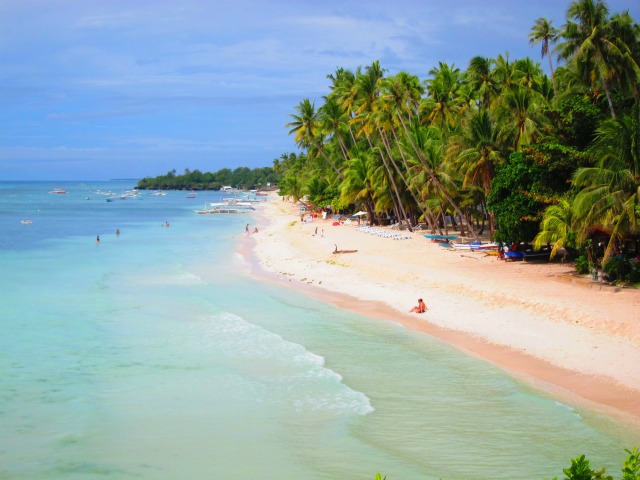 With beautiful beaches like Panglao in Bohol, the Philippines is a great place to retire. Brian Ong
According to a report on Yahoo, the Philippines is one of the most tax-friendly places to retire, with income tax from five to 32 percent on worldwide income, sales tax at 12 percent, property tax at one to two percent, capital gains tax at 6 percent, and no tax on foreign retirement income.
Citing a report from Global Post, they said 25,000 foreign retirees have settled in the Philippines since 1985. Of this number, 1,200 are in the nightlife hub of Angeles City, around two hours from Manila.
"They can live here like kings. Foreigners adapt pretty well here mainly because the Filipinos are pretty flexible," the Global Post quoted Christine Nuñag, head of the Angeles City Tourism Office.
According to the Philippine Retirement Authority, there were 2,234 enrollees in 2011 in the retirement program, with the top nationalities from the People's Republic of China, Korea, Republic of China (Taiwan), Japan, and the United States.
"Retirement migrants have expressed their ease in adopting the Filipino culture, in which the Western culture is merged with the traditional. And definitely they find excitement and fun in most places they have visited all over the country," the PRA said.
Early this year, the PRA incorporated the Department of Tourism's campaign "It's More Fun in the Philippines" in its marketing materials.
"With the country's appealing natural wonders, its low cost of living, attractive investment opportunities, exciting leisure facilities, including excellent medical facilities and educational institutions, retirees may find the ideal retirement destination in the Philippines. If we add the caring and resilient nature of Filipinos, retirement migrants will find it more "fun" to retire in the country," the PRA said. –KG, GMA News