Like other repeating dates, 12-12-12 is a popular choice for milestones. Filipino couple James Paul Cunanan and Joyce Dimaisip are among thousands who will get married today.
"I have friends; it started with 8-8-8. Every year, we'd have weddings on that date. So 8-8-8, 9-9-9, 10-10-10, 11-11-11 and now it's my turn, 12-12-12," Dimaisip said in an interview on GMA News' Unang Hirit on Wednesday.
"That's the date we're going to get married, and that will definitely be my favorite number," Cunanan added.
All over the world, couples compete to be able to book their wedding on repeating dates, the report said. Couples set to get married today believe the date will bring them luck, which was supported by numerologist Tony Suvega.
"Magkakasundo sila. Maganda naman ikasal talaga sa panahon ng Dragon. Actually 'pag binasa natin 'yung Water Dragon, it is a combination of the performance of the Rat, as regards to business, work and career, and the performance of active money, which is the Dragon," Suvega said in the report.
At The Nurture Clinic in New Delhi, many couples requested to schedule the delivery of their child on 12-12-12, an article in the The Hindu said.
Apart from its being easy to memorize, many believe the date is auspicious.
12-12-12 is a special date in numerology, numerologist Dr. Vivek Chopra said in an article on the Jagran Post.
"If we add 12/12/12 or 12/12/2012, the number we get is 5 and 9 which is the number of planet Mars and Moon. If we add 2+1, we get number 3, which denotes planet Jupiter. This way all 5, 9 and 3 numbers relate to friendly and cool planet," Chopra explained in the article.
For some, it's just an unusual date to mark a special occasion. Chopra noted that the date is easy to memorize, and the repeating date, month, and year won't happen again until January 1, 2101.
For others, the date holds even more significance.
For a group of people called Lightworkers, 12-12-12 is a "great culmination of events and energy."
To celebrate, they are holding an event "Beyond the Prophecies 12-12-12," where Crimson Circle's Geoff Hope and Linda Benyo and Lightworker's Steve and Barbara Rother will be presenting.
"All four presenters will give unique, profound and powerful presentations and activate you to become charged creators walking in divinity, in the new world, Beyond the originally scripted Prophecies," the event description reads.
"It may not happen for each individual on an exact date or time but the highest point of the energy wave will crest on the 12-12-12 at twelve minutes past noon. This is a man made wave of energy that spirits all over the planet have been building," reads the event description on the website.
According to the Lightworker website, a Lightworker is a chosen title for anyone who choose to spread light on planet earth.
Legend has it that this is the where the great golden disc, also known as the Solar Disc, of the mysterious doorway of Aramu Muru was hidden. "The ceremony's intent is to re-activate the Solar Disc and enable participants to connect with their Inner Sun," the Body Mind Spirit Journey website said.
One tour is led by Jorge Luis Delgado, an Andean shaman, mystic and healer, while the other is led by spiritual counselor Caroline Hehenkamp.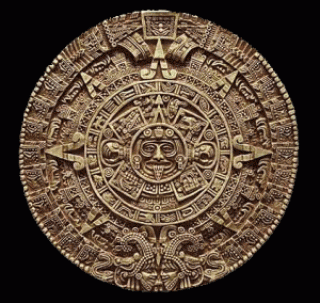 The Aztec "Sun Stone" calendar, located in Mexico's National Museum of Anthropology and History, Mexico City. The calendar is often associated in popular culture with the Mayan calendar, which supposedly ends in 2012. Museo Nacional de Antropología
In America, Bon Jovi, Eric Clapton, Dave Grohl, Billy Joel, Alicia Keys, Chris Martin, The Rolling Stones, Bruce Springsteen & The E Street Band, Roger Waters, Kanye West, Eddie Vedder, The Who and Paul McCartney come together in aone-night concert at New York City's Madison Square Gardens. The 121212 concert will be staged for the benefit of victims of Hurricane Sandy through the Robin Hood Relief Fund.
"Some say that the ancient Mayan civilization believed the world would end in 2012. Other people say the Mayans did not believe this. We are on the brink of discovering who is right," the project website reads.
According to the website, a book of the art may be produced—unless, of course, the end of the world arrives.
But will the world really end today?
No one can tell for sure when the world will end, according to Msgr. Joselito Asis, secretary general of the Catholic Bishops' Conference of the Philippines.
Asis said predictions are merely interpretations, and what is important is that you are prepared. "Ang katapusan ng individual na tao ay anytime tulad ng kamatayan. The Lord may come to us in the form of our own death. Katulad ng paalala sa atin, laging maghanda para sa kamatayan. Magandang paghahanda, laging nasa buhay ng grasya o hindi nabubuhay sa kasalanan," he said in a videoposted on the CBCP website.
There are also some who believe the date, although memorable, is unsuitable for auspicious events.

"There is nothing special about the date. It is like any other date," Malaysian Institute of Geomancy Sciences and Feng Shui founder Prof Master David Koh told The Star Online.
Numerologist Sushmeetha Morugan advised against starting a business or getting married on 12-12-12. She said the destiny number derived from the date added up to the number two, which is ruled by the planet moon, the same article said. "The date does not have good energy," Morugan said. —KG, GMA News