The wide sidewalk facing Manila Bay can be an awesome spot for pre-nuptial posing, or just a great place for a refreshing stroll. It is also the perfect place to view the sunset.
Earlier this week, it was viewed flash-mob style by some 4000 sunset worshippers.
The Roxas Boulevard stretch along the bay was filled with silent protesters forming a human chain to watch the sunset, currently being threatened by plans of reclamation, and likely bid it goodbye.
A project by Manila Goldcoast Development Corporation plans to build "Solar City", a financial center with an entertainment section, on a portion of Manila Bay.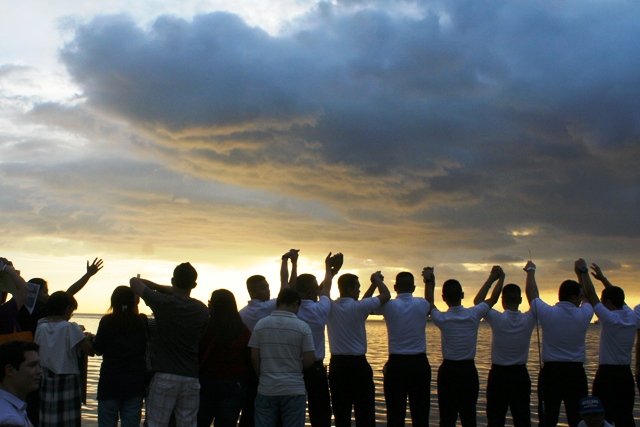 Members of the SOS Manila Bay Coalition and protesters link hands as twilight falls on the bay.
According to an earlier report, the project proponents are only waiting for an environmental compliance certificate from the DENR before they begin the reclamation.
On Tuesday, members of the SOS Manila Bay Coalition, along with students, professionals, environmental advocates, tourists, and artists linked arms and lined the seawall from the US Embassy all the way to the Manila Yacht Club.
Unlike a typical protest event filled with angry calls to action, the scene was rather festive. People held up colorful umbrellas to shield themselves from the harsh afternoon sun. Overhead, a hovercam fluttered, and they hammed up for it, plus every other camera in the vicinity.
They waved colorful signs. They giggled in awe as artist Betsey Westendorp painted the sky. They sang and danced along to a bongo and the upbeat sound of a ukulele. As the sun began to descend and gold began to blot through the sky, people began to count down to the magic moment.
"It's almost sunset! Time to link arms!" a marshall called out. The protesters grabbed each other's arms excitedly and faced the bay.
When the sunset had finally arrived, they cheered and raised their arms to form triumphant silhouettes against the sky. Soon enough, the human chain broke out in a series of waves from one end of the seawall to the other.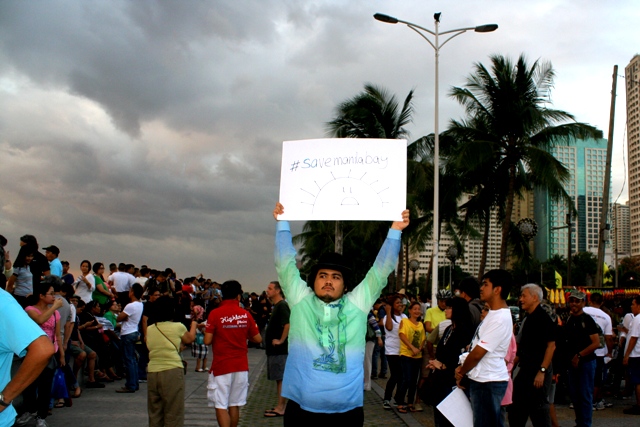 The cheers seemed endless. This was how to celebrate what just might be the beginning of the end for the baywalk's sunset view.
For a heartbeat however, it was as if the brilliant view had rendered everyone speechless. For a few precious moments, the cheers died and people stood on the seawall to simply watch as the sky melted in swirls of gold, azure, and cerulean.
In an online appeal started by the coalition, petitioners signed a letter addressed to the Manila city government.
"Sunset on Manila Bay is a spectacular experience, and is free for all to enjoy. It is thus disheartening to find out that we may lose our sunset if developers have their way," the letter read, putting into words what several thousand participants were thinking that afternoon, as they fell silent and watched the sun sink into the sea. – KDM/HS, GMA News