Multi-awarded Filipino filmmaker Eric de Guia, also known as Kidlat Tahimik, will be the recipient of the 2012 Fukuoka Prize for arts and culture.
De Guia will will be awarded 3,000,000 yen or P1.6 million for winning the arts and culture category of the 2012 Fukuoka Asian Culture Prize. The two other categories are the Grand Prize and Academic Prize.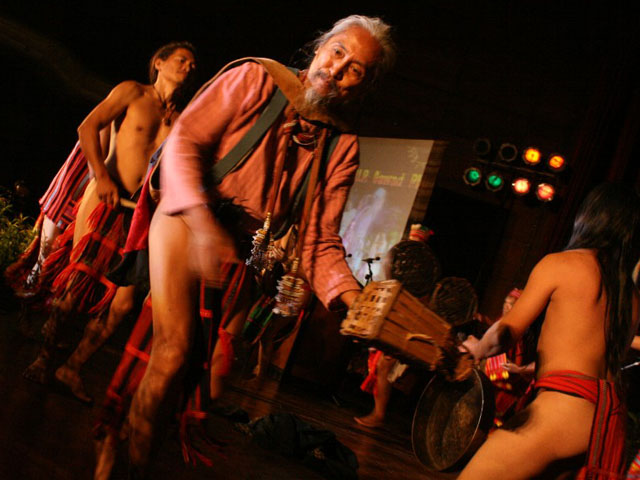 The 2012 Fukuoka Prize for arts and culture is another addition to Kidlat Tahimik's awards. In this 2009 photo, he performs an Igorot dance after receiving UP's Gawad Plaridel. File photo by Roehl Niño Bautista, GMA News

"Mr. Kidlat Tahimik has...achieved many successes as a leading Asian independent filmmaker. He has also been an inspiration to the young generation as well as working constantly on diverse artistic projects. For such a contribution, he deserves the Arts and Culture Prize of the Fukuoka Prize," said the award citation.
De Guia graduated from the University of the Philippines. He also studied at the Wharton School of Business and University of Pennsylvania, where he received an MBA.
He worked as a researcher for the Organization for Economic Cooperation and Development in Paris, France, after which he returned home to start his career as an independent filmmaker.
His first film, Perfumed Nightmare (1977) received the FIPRESCI Award (International Critics Award) at the Berlin International FIlm Festival. The film was followed by a series of idiosyncratic films.
At the screening of his films, De Guia performs sketches and dances with a company of Igorot people.
According to the secretariat of the Fukuoka Prize Committee, the prize was established in 1990 to "honor outstanding achievements by individuals or groups/organizations in preserving and creating the unique and diverse culture of Asia."
"The aim is to foster and increase awareness of the value of Asian cultures as well as to establish a framework within which Asians can learn from, and share with, each other," it said.
The secretariat said there have been 88 prize recipients from almost every region in Asia in the last 22 years. — Kimberly Jane Tan/RSJ, GMA News