Bantayan island was meant to be for a day and a night, a quick weekend visit while staying on the far north of Cebu province. Friends had often talked of this island and the chance to see it came at the end of summer, before the monsoon.
There are reasons that cannot be taken for granted about coming to this island: the shuttle ferry left the port town of San Remigio on time, reaching Santa Fe in an hour and well worth the 185-peso fare. Santa Fe, one of Bantayan's three villages, is the place for the tourists, the resorts, and the fine white-sand beaches that you could see as you approach the pier, clean and orderly.
But the vital reason why I decided to stay longer was on account of the pedicab driver: he didn't hassle me and he took me to the Beach Placid Resort that had a single fan-only (as opposed to air-conditioning) room for 500 pesos a night. The sea was a clear pool of water, and the late afternoon sun was not too harsh, perfect for a dip.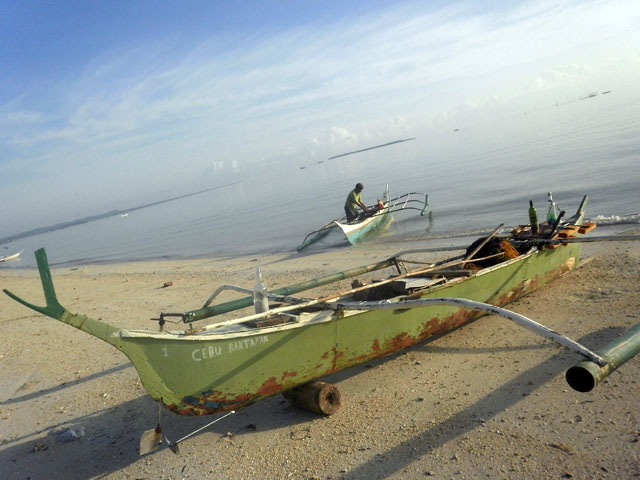 The atmosphere was a cross between a provincial setting and a western-style resort where some women guests are not too comfortable wearing a bikini or a maillot. It's a family treat riding on a jet ski. It's simply relaxing sitting on the chaise longue, smelling the faint saltiness of the breeze. No one bothers you for a foot massage; the resort can call for a masseuse formerly trained at a Thai spa at your request.
Everyone else seemed accommodating to your needs, genuinely, and you find yourself falling into the charms of the resort's Visayan staff. You hear a small voice in your head inviting you to stay a while longer, even for just another day. And that's what I did.
The following morning I had homemade
champorado
for breakfast, preparing myself for a full stretch on the road. I rented a bicycle from one of the cleaning boys, a city bike they call 'Korean,' presumably one of those used goods that must have been smuggled into the province. I decided to go to the main town of Bantayan, what I would discover to be an old Spanish harbor that appeared to me like a perfect movie set.
I pedaled for about an hour and a half, taking 11 kilometers of the 'highway' that was named after the province's governor, a narcissistic habit of politicians. I had awoken to the wild trilling of glossy starlings nestling on a bunch of coconut trees, and I knew that I would see more birds along the way, perched on electric wires as I went on.
Some parts of the road had a stretch of neem trees and gorgeous hibiscus bushes and other indications of a tree-planting activity on the side of the road. This highway was empty, and only occasional SUVs sped through. My only companions were workers carrying their carpentry tools, and a girl who stopped me for a few coins as she walked to school. There is an airfield, and you imagine that if you are rich enough, you can fly to this island anytime at your command for a pleasant weekend such as this.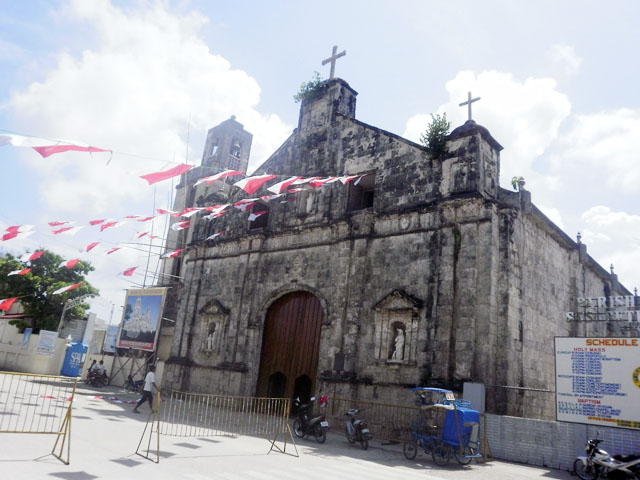 I found Jose Rizal in the town's plaza in his usual overcoat, surrounded by the leftover architecture of the Spanish colonial past, an old theater turned into
ukay-ukay
shops, buildings that stand for posterity, a 16
th
century stone church with stained-glass windows of Biblical designs. A caretaker allowed me to sit among the pews in my biking shorts – usually forbidden – so I can pray before an altar of gold-plated finery.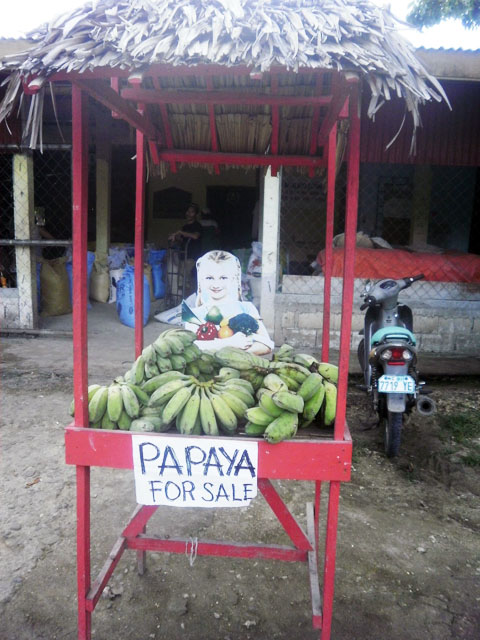 The wharf fit into the scene, with fishing boats that looked like they had battled against pirates. The smaller fishermen carried on with their catch in their wooden dinghies, living each day as it is. The market was sprawled nearby, driving me into a reckless frenzy of buying the cheapest fruits and dried
danggit this town is famous for – something my father would like for pasalubong. They all piled up in the basket of my 'Korean' bicycle.

The townspeople must have sensed my exhilaration; they made way for me as I biked through, surprisingly incredulous that I had come all the way from Santa Fe. You cannot get lost here; it had signs pointing to the cemetery, the jail, the slaughterhouse, the school with the cotton candy man waiting outside, and just about anything, especially on the highway that warns you of a 'steep downward' when it was nothing more than a small slope.

It is an island as it should be. There are copycat signs that seemed a pretense at modernity, like putting up a home subdivision, but it would ruin the nostalgic heritage of Bantayan. I found it amusing that the cook in my beach resort couldn't make tomato sauce for my pasta; he presented me with sliced raw green tomatoes and laid them on top of the dish for decoration.

Walking on the shoreline from Beach Placid, I saw a fishing village of authentic curiosity – showing me this island's homegrown culture just from the way their outriggers are fixed for their expeditions at sea. Bantayan ought to know that this and its old ways make it special for the outsiders, not the number of resorts it can build on its shore. – YA, GMA NEWS