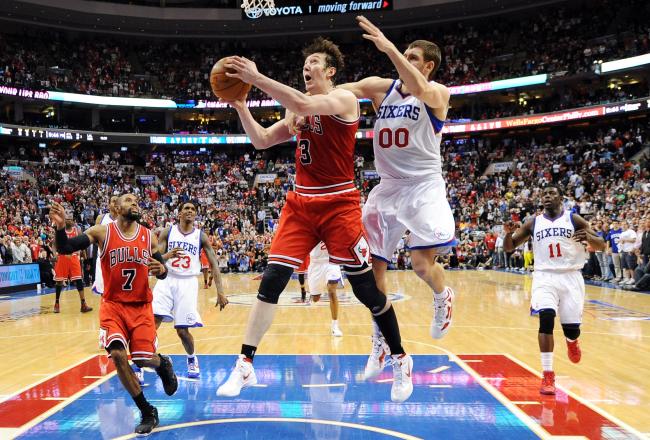 rew Hallowell/Getty Images
"The King is gone, but not forgotten," Neil Young phrased it best.

Omer Asik is no longer a Chicago Bull*, and Bulls fans will never forget him.
Late last night he signed the Houston Rocket's $25 million offer. Most likely if you're reading this he was your second-favorite Chicago Bull, after Derrick Rose.
The Turkish Tower, the International Man of Mystery, the Turkish Terror, whatever you called him: He will now be playing in the land down under Sam Houston National Forest. He'll be way down low in the place where he will be doing what he does best—blocking shots, grabbing rebounds, and being an intimating presence in the paint.
The Rockets thought he was worth $25 million and the Bulls didn't.
This isn't a "get angry at Jerry Reinsdorf" article. He may be worth that money, he may not. After all, when I informed my friend of Asik's departure he said, "Good, he's got no xxxxxxx hands." Which is true.
Never in my life have I seen a big man fail to control a "gimme" pass like Asik, but should he be written off so early? Especially since he has mastered two-thirds of the game so well?
In Houston, for a relatively low price, he will develop for two years.
Year three, he will be expected to score in the paint. Asik, whether he knows it or not, is supposed to replace Yao Ming. This means he needs to find a way to chip in ten points a game. Yao Ming was a natural scorer, Omer Asik isn't.
Houston is banking on Omer developing into an asset on offence; otherwise in 2016 he will sign with a new team, and hopefully not be a lesser-compensated Darko. Otherwise, to quote Coldplay, Houston fans will have got, "what you want, but not what you need."

If one were to analyze their advanced stats, you'd find that Omer leads Yao in every big-man-relevant category except points scored and assists. Through two years of 36 minutes per game projections, Omer Asik seemingly has Yao's potential and more in all aspects of the game, except offense.
Omer needs to become confident at drawing fouls in the paint. Thisis what he is good at, but what comes next he isn't good at. A career .484 free throw percent shooter, Asik will need to shoot at least 60 percent from the charity stripe.
With this down, teams will become less willing to "hack a Turk," and Asik can beat them in the paint. This means he needs to be a better finisher. Sure he can shoot .529 percent from the field. But for everyone that watched Bulls games religiously, Asik was a reluctant shooter.
Asik shoots when he has to. When no one is open he attacks the rim. A lot of the time he is fouled, but when he isn't, he can finish strong. This is the Asik Houston paid for—the man they believe will develop into a force on offence.
There's no reason to believe he can't. He's physically more gifted than 95 percent of the centers in the NBA. He just hasn't been able to take advantage. Playing 13.2 mpg because he was behind Joakim Noah hasn't helped. For Asik to thrive, he needs to be a starter. On Houston he will be.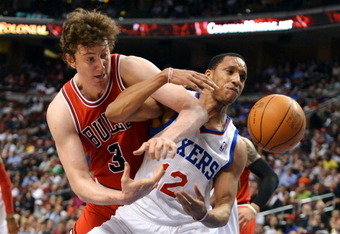 Drew Hallowell/Getty Images
Houston's hope is that over the course of a year and a lot of minutes played, Asik will gain the confidence he need to demonstrate what he is capable of. We all know he can rebound and block shots like no one else in the league, but can he ever learn how to put on a clinic on offence?
I think it's fair to say, nobody will ever instruct newbies to watch Asik highlights to learn to score. Despite this, there's no reason Asik can't learn how to tip in or catch. That's right, I said "catch." If Asik can catch passes under pressure and attack the rim, he will be a force to be reckoned with, especially once he becomes a better shooter from the free-throw line.
In the big scheme of things the Rockets took advantage of a rule that penalizes teams trying to retain players with the NBA luxury tax that I'm not too drunk to remember, but have mysteriously forgotten.
Perhaps in the afternoon when I awake, I'll Google search and correct the financial stipulations that will occur if the Bulls resigned Asik. I think it has something to do with the Rockets being allowed to average his salary out over the course of the contract.
For teams like the Bulls trying to retain a player, I believe they have to pay the full $15 million in salary for the final year of the contract, but I'm not sure.
Regardless, Houston has Asik now, and for their sake, to quote Muse's best song of all time, all Houston fans want is a promise from Asik, "not to fade away, never fade away." Seriously, they need you to score.
Otherwise Asik won't fulfill their hopes and expectations.
*When I say Asik is no longer a Bull, it is a metaphor for the three days that will pass in which the Bulls can match Houston's offer, but won't. Very rarely do miracles occur after three days.