Jan-Vincent Velazco, a Filipino drummer, will be performing during the opening and closing ceremonies of what is dubbed as the "Greatest Show on Earth" — the 2012 London Summer Olympics from July 27 to August 12.
Velazco will be among the thousands of performers chosen for the Olympics.
Velazco usually plays rock music but has expanded his genre to include pop, electronic, jazz and RnB.
In an interview with GMA News Online, Velazco said, "I've always wanted to play to a huge crowd and now I'll be playing to an audience of one billion, so yeah, it's amazing. I'm so psyched about it because being part of something of this scale is unreal."
Played gigs in PHL
Velazco, who has been playing the drums since he was 13, first formed a band during high school with his cousins and friends when he was still residing in the Philippines. They played gigs in Silang, Cavite.
When he was 14, his grandmother then enrolled him at the Yamaha School of Music. He later proceeded to become a member of the De La Salle University-College of Saint Benilde school band "Rhythmic Circle" for two years.
With the Rhythmic Circle, Velazco was exposed to various music "which made every gig quite exciting."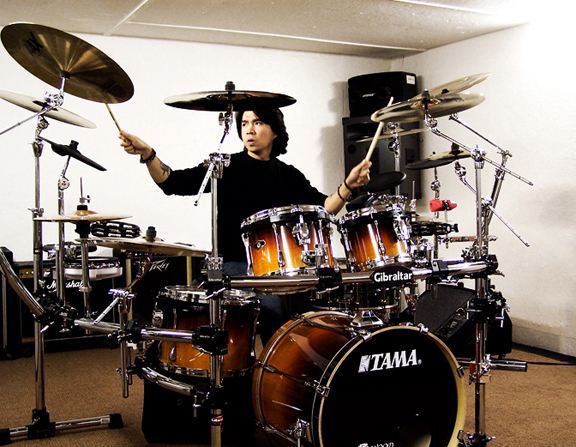 "Music has been my passion since I was a kid and I always had this feeling that I had to pursue it, play drums, and be in a band one way or another," said Jan-Vincent Velazco, who will perform at the London Olympics. Courtesy of Jan-Vincent Velazco
Leaving the Philippines
After college, Velazco worked for the Department of Foreign Affairs (DFA), made friends and formed bands.
When asked why he left the Philippines he answered: "Fate and music."
"Music has been my passion since I was a kid and I always had this feeling that I had to pursue it, play drums, and be in a band one way or another," he said.
Velazco was browsing the net when he discovered a music school in England.
"The more I found out about it the more I became convinced that I had to study there."
Through the encouragement of his parents, he sent a drum demo, passed the audition and was off to England a few weeks later.
"It happened so fast that to be honest there wasn't really much time to think about what was going to happen. I just did it. Just like that. Maybe if I had time to think about it I would've made a different decision, who knows," he said.
Velazco says that after being in London "I'm still the same person I was." The only difference is that drumming became more serious and he loved it more.
However, Velazco mentioned that he missed his family and friends in the Philippines.
He also misses how he could relax "and enjoy the most basic things in life" back home.
"It's really peaceful and calm," he said.
Rise to fame in London
After graduating from the prestigious Academy of Contemporary Music in Guildford, Velazco went for a Postgraduate Diploma in Computer Science to pursue his other passion: graphic design.
"Visual art is another passion of mine so I decided to take it to another level and tried to become as skilled as possible," he said.
This wasn't a hindrance to his music career for he joined a band named "Running Riots" in 2008 which was renamed to The Beautiful Game (TBG).
TBG performed with top bands like Toploader, Reef, The Bluetones, and Dean Mumford and even one of their songs won the song of the week on Myspace.
In 2010, Velazco was selected to be one of the drummers for the Lexus Car TV commercial that featured Kylie Minogue.
After years of playing gigs, recording and creating projects, he started getting endorsements from different drum companies such as Pellwood Drumsticks which designed his signature drumsticks.
Just last year, he met Seb, a bass player, who is now his bandmate in a two-man progressive rock band named "Control."
Since forming the band, Control has already released an extended play and won a drum video competition.
Control will be returning to the studio in Brighton to record another extended play soundtrack which Velazco says "is going to be our best one to date."
Plans and inspiration
"For me playing the drums is more of a passion than a career and I can't imagine life without it," Velazco said.
He also mentioned that his drum heroes Matt Sorum, Lars Ulrich and Neil Peart kept him inspired while his love for drumming is his motivation.
"That's the great thing, if you have a passion for something, you never think of it as a chore," he said.
Velazco is currently playing for three bands in London including Control which he considers as one of his most exciting projects.
Aside from this, he also works as a full-time graphic designer which alone takes up 40 hours of his time a week.
As for his plans, he wants to "record and play as many gigs as we can" and is looking forward to a Japan tour for next year and a new recording album with Medusa.
For his fellow Filipinos and other drum aspirants, he has a simple message: "follow your dreams."
"There's going to be a lot of obstacles and frustrations along the way so you really have to love whatever it is you do. If you are passionate about something and really love it then you should do whatever it takes to reach your dreams," he said.
- VVP, GMA News