PARIS — Out of hundreds who auditioned for the role, a Filipina domestic worker here in the French capital was chosen to play the role of an Asian maid in a film starring French international actress Sophie Marceau and famous French comedian Gad Elmaleh.
Dina Nietes Capistrano, 52, told GMA News Online that it was a great honor to be chosen for a role that almost 500 people auditioned for.
Capistrano said her employer received an email asking for permission to allow her to join the cast of "Un Bonheur N'arrive Jamais Seul" (Happiness Never Comes Alone) which was released on June 27 this year.
Capistrano spent 10 days shooting for the film, which took two months to finish.

She earned 5,000 Euros (roughly around 256,000 Pesos) which she will use partly to pay her debts. The rest would be spent for her children in the Philippines.

Having been an undocumented worker before she landed the role, Capistrano also received a "permit to stay," thanks to the film production agency. She has received an entitlement to work from the Prefecture de Police.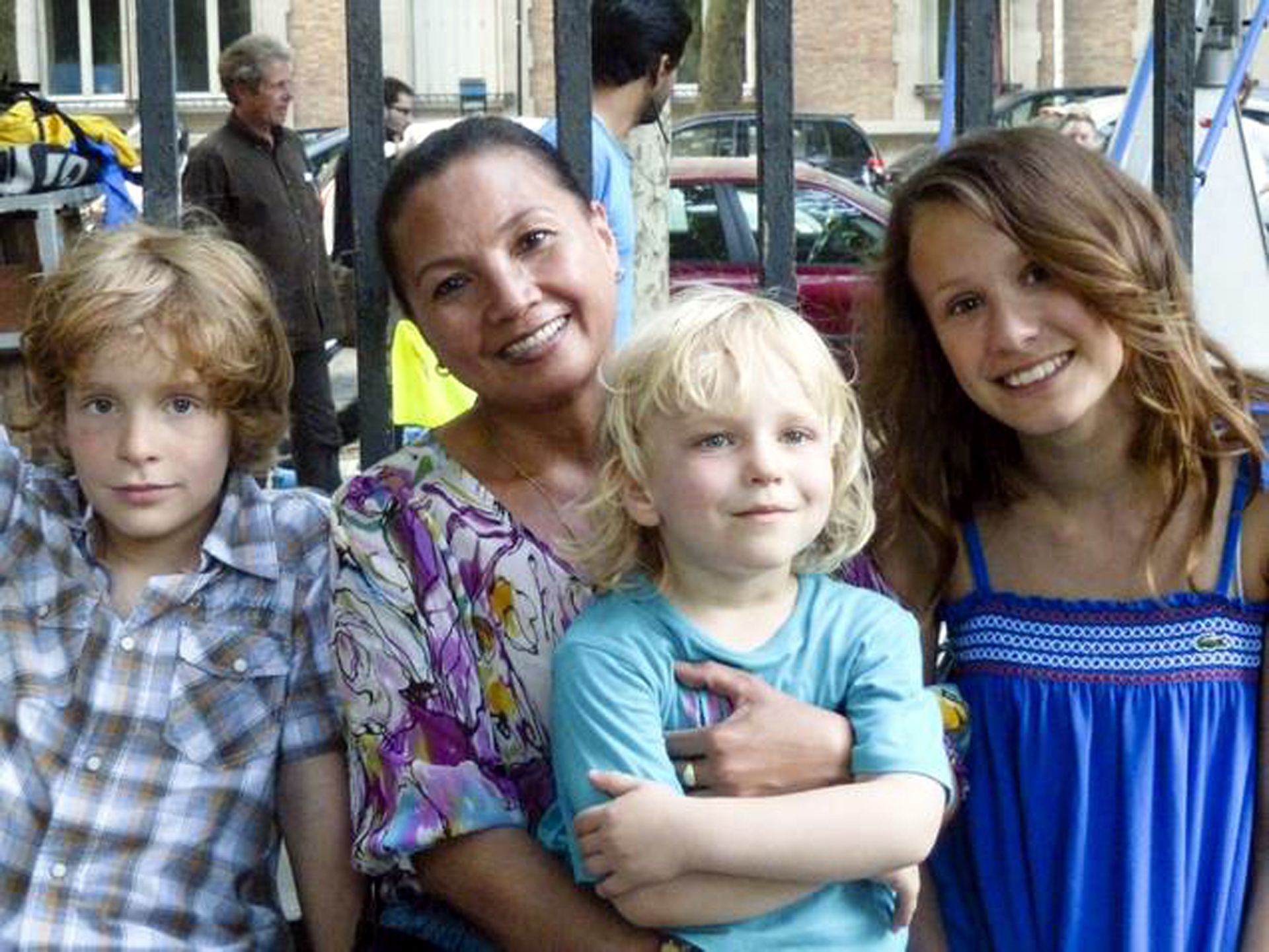 Dina Nietes Capistrano, a Filipina maid in France, plays the role of an Asian maid in the film ""Un Bonheur N'arrive Jamais Seul." Capistrano is shown here with the young actors in the film. Dick Villanueva

Being a maid not a hindrance

Capistrano said she learned that being a maid does not prevent a person from reaching his or her dreams.
Capistrano grew up in the Bicol region of the Philippines and obtained a Communication Arts degree before she worked abroad.
She used to be a leg woman in an agency in the Philippines, which she thought was ironically the exact opposite of her experience while working in the film.
"Noon ako ang sumusundo at nagdadala sa mga artista, pero dito sa Paris ako ang sinusundo para sa shooting namin," Capistrano said.
She first worked in Saudi Arabia and got the chance to escape from her employer when he brought her to Paris, where she worked as an illegal worker for 10 years.

After those 10 years, she can now finally return to the Philippines to visit her children who were only nine and 10 years old when she left.

Currently, Capistrano holds a health care benefit in France that enlists her profession as a comedian.

Her agency also promised that she will be given priority for upcoming French films should there be a need for casting or extras.
Capistrano shared the good memories during the shooting of the film as "Nana," the nanny of Marceau's children.
She said that Sophie Marceau was kind and very supportive while Gad Elmaleh was impressed with her and told her: "Dina, you're an actress."
Even James Huth, their director, was impressed with Capistrano's ability to act naturally beyond the script without being trained to do so.
She also memorized her lines with ease.
The child actors and actresses also got attached to Capistrano, calling her "Nana" even when the camera wasn't rolling.
She also mentioned that she spoke in Tagalog for her role as "Nana" in the film. — with Andrei Medina/VVP, GMA News