Philippine exports jumped 4.2 percent to $4.31 billion in June from $4.135 billion a year earlier, the National Statistics Office (NSO) reported Friday.
Exports in the first half also accelerated 7.7 percent to $26.753 billion from $24.846 billion in the same comparable period, NSO data showed.
Payments for electronic products – the country's top shipment – totaled $1.886 billion, accounting for 43.8 percent of aggregate exports for June. The bill, however, was down 14.6 percent from $2.210 billion, the NSO said.
Receipts for semiconductors totaled $1.502 billion, up 2.2 percent from $1.470 billion.
Woodcrafts and furniture earned $158.25 million, reflecting a 5.9 percent increase from $149.49 million.
Metal components posted the highest annual growth rate of 152.9 percent to $149.43 million from $59.10 million.
"This can be attributed to the increase in volume that grew by 40.5 percent from same period last year. Similarly, compared to previous month, it went up by 7 percent from $139.64 million," the NSO noted.
Articles of apparel and clothing accessories totaled $148.88 million, down 7.1 percent from $160.2 million.
Ignition wiring and other wiring sets for vehicles, aircrafts and ships were up 89.1 percent to $121.78 million from $64.39 million.
Coconut oil including crude and refined fetched revenues of $103.71 million, fresh bananas earned $46.46 million, gold extracted from copper ores and concentrates totaled $46.08 million, fresh and frozen tuna reached $35.19 million, and pineapple and pineapple products gained $32.04 million.
Aggregate payments for the top exports amounted to $2.728 billion, or 63.3 percent of total receipts, NSO noted.

Export desinations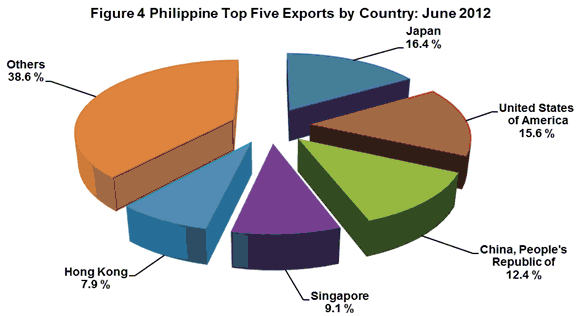 Japan was the top export destination, accounting for 16.4 percent of total receipts, but Tokyo's total bill from the Philippines dropped by 24.7 percent to $704.96 million from $935.85 million. Exports to Japan were mainly commodities for component devices and manufactured wood, the Statistics Office said.
United States of America (USA) including Alaska and Hawaii bought the equivalent of 15.6 percent of Philippine goods shipped last June, valued at $674.21 million, up 17.7 percent from $572.79 million.
People's Republic of China accounted for 12.4 percent the export bill, up 3.2 percent to $534.63 million from $518.15 million.
Singapore – with 9.1 percent share of total receipts – paid $392.75 million for Philippine goods, up 0.3 percent from $391.73 million.
Hong Kong purchased 7.9-percent of Philippine exports for the period, amounting to $341.94 million.
Other major export destinations were Germany at $270.40 million, Republic of Korea at $231.09 million, Taiwan at $173.07 million, Thailand at $160.34 million, and Netherlands at $146.36 million.
Payments for exports from the Top 10 country-buyers amounted to $3.630 billion or 84.2 percent of the total, NSO said.

EU, ASEAN, East Asia
Exports to East Asia (China, Hong Kong, Japan, Macau, Mongolia, North Korea, South Korea and Taiwan) were 46.1 percent share of Philippine export revenues, valued at $1.987 billion – down 5.4 percent from $2.101 billion.
ASEAN member-countries bought the equivalent of 16.7 percent share of Philippine shipments for $718.19 million. It was down 6.4 percent from $767.69 million.
The European Union took in 15.1 percent of aggregate Philippine exports valued at $648.97 million, up 54 percent from $421.44 million. — VS, GMA News